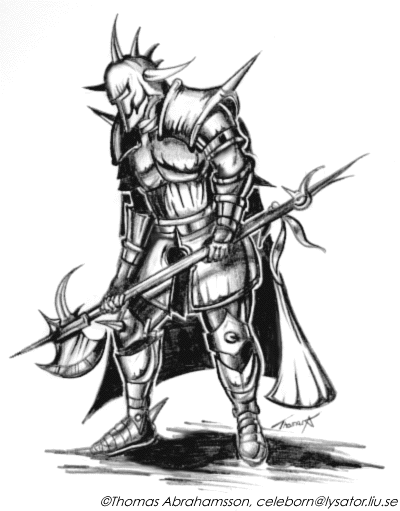 The Soldier- A class for nearly everything, with a large capacity of armor and weapons, and a much smaller capacity for magical ability (Learns Paralyze at Level 10).
Starting Moves
Edit
As with almost every class, the Soldier starts out with three combat moves. They are listed here:
Attack- Damage depends on weapon only
Parry- At level 1, gives 50% chance of a block for 3 seconds.
Hack- At level 1, does +1/4 damage than regular attack.
How does a Soldier train? Quests? Payment for moves? or a combination of both?
All a Soldier has to do is pay for moves once they reach the leigitimate level.
Slash-Level 2
Shield (Proficiency)- Level 4
Cleave- Level 4
Mail (Proficiency)- Level 5
Bow & Arrow (Proficiency)-Level 6
Poison Shot-Level 8
Dreadblade- Level 8
Flameshot- Level 10
Paralyze- Level 10
More is to come
Proficiencies
Edit
So long as the Soldier has the correct training, he/she may use any type of armor or any kind of weapon.